Dr. Michael R. Ziegler is proud to be the only LANAP certified provider in the Middle East.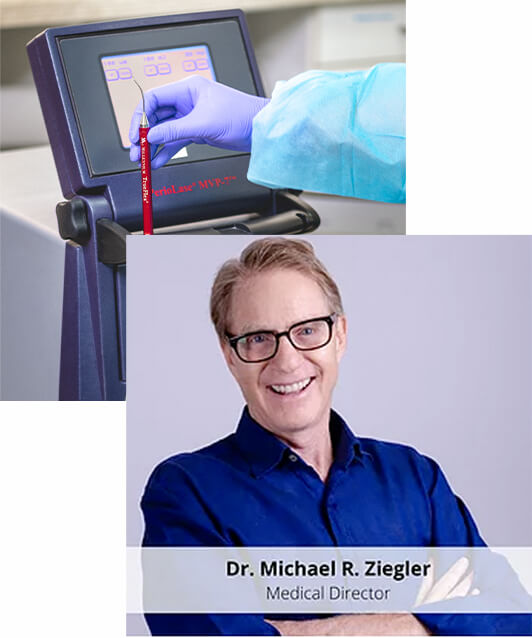 No Scalpel. No Stitches.
Restore gum health through a comfortable and revolutionary laser gum treatment.
If you're suffering from periodontal disease, pen-implantitis, or a failing implant, you owe it to yourself to talk to in about the LANAP protocol!.
The American Dental Clinic is the only clinic in the UAE and the MENA region to do LANAP using Millennium Dental Technology from California. Dr. Michael Ziegler trained over a course of two years in the US with Millennium.
What is LANAP?
Laser-assisted new attachment procedure (LANAP) is a high-tech, minimally-invasive, and FDA-approved laser periodontal treatment. It is the first (and only) laser treatment for gum disease that's backed by both clinical and laboratory research.
This modern technique treats gum disease, helps regrow healthy gum tissue, and prevents gum recession — all while leaving healthy tissue intact.
We may recommend LANAP as a treatment for a variety of issues, including:
• Gum disease
• Failing implants
• Peri-implantitis (through the LAPIP protocol)
What to expect from your treatment?
LANAP is a full-mouth procedure that can be completed in just one visit.
After gently numbing your mouth, we'll use the high-tech PerioLase® MVP-7™ to remove diseased tissue and bacteria from the affected areas. Ultrasonic instruments will then remove any tartar from the roots of your teeth.
As a final step, we'll use the laser to seal the treated area, allowing your gums and bone to regenerate.
Typical recovery time is less than 24 hours. Plus, there's virtually no risk of infection. You'll see an improvement in your gums right away!
Discover the benefits of LANAP
This state-of-the-art laser gum treatment allows us to repair and restore unhealthy tissue without the need for traditional cut-and-sew gum surgery.
Promotes regeneration of healthy gum tissue
Minimal pain, sensitivity, or bleeding
Reduced swelling and inflammation
Very little downtime after treatment
Lower risk of infection
Faster and more comfortable healing

Highly recommend Dr. Michael Ziegler and ADC,
they are the pioneer and the best.
Zhenya Khan, Happy LANAP Patient
So Why Wait?
Book Your Appointment Today.